Editor: Ian O'Dwyer
If you have any comments or questions, email the editor.
This eBulletin has been generated by

ClubRunner

club communication software. Visit

clubrunner.ca

for details.


© 2002- 14 Doxess. All Rights Reserved.
ClubRunner Sponsors
Please visit our Sponsors.
To place your ad click here.
Editor's Note
by O'Dwyer, Ian
Fellow Rotarians
Welcome to this week's Blub Bulletin. Thanks to Scott Pafford and Robert Vance for articles this week and to Keith Sorem for the weekly meeting notes. Submit your own article to be fine free that week.
Regards
Ian O'Dwyer
Meeting Notes from Friday, April 11th
by Sorem, Keith

Guests and Visiting Rotarians, Upcoming Projects, Fines and Acknowledgments, Allan F. Daily High School Second Chance Garden

GSR
Guests and Visiting Rotarians
Barbata O'Dwyer (Ian O'Dwyer's daughters)
Logan Propst (Tom Propst son)
Dan Borenstein, from Santa Rosa Rotary, visiting his mother in Glendale
Joshua and Brian, JPL Community. former Glendale Moonlight Rotary
Emily Geoff from Daily High School

Basketball victory recap, kris Hons reported, we won both in points and tickets, so we beat Kiwanis, and the Fire Dept. beat the Police Dept.

Club announcements


April 19th

Glenoaks Elementary Project will start, see Kris Hons,


8am to 2pm

, installing fencing
Don Icardo, cleaning up a hillside area above the fence
Horace Mann elementary , book cleaning

Sat. April 26

, see Nina Sonin

Club shirts , pools and tees, are being ordered, see Yvette Davis

Club fellowship,

Thurs. May 1st

at the wine cave

Fines and Acknowledgements
Kris Hons, thanks for everyone showing up, including Don Icardo
We won best service organization Bras for a Cause
Patty Fallahee's bra for the club won an award
Yvette, won most unique Bra, Ladies of Burlesque, husband designed
Jeanett Cordon, knocked over by city manager at the basket ball tournament
Stephen Ropfegel, bus crash up north, some of Pam's students were on that trip, not in that particular bus.

Alex Parajon, organ donation update, was in Sacramento
Organ donation award from the city of Glendale, our rate is 18%, the average is 25%

Denise was in Baltimore American Occupational Therapy conference, three wondered warriors discussed their experience, how importance of therapy.
On April 5, I received an awards for my work

Peggy Riddle is in training to be referee, cats are fighting

Logan is job shadowing , Tom Propst, his other son I. 8th grade is traveling on the east coast. Logan received his Eagle.

Alan Daily High School, Emily Goff

Contributed a mural to the YMCA to pay back for their support. Gathered 100 students on the squares, hundreds were painted in a mosaic style.
Asked the students for inspirational quotes, such as "Handle your business or your business will handle you",

The design was student led, and had a professional muralist, to help design, assemble, and install the mosaic mural.

We have a new community garden project, and we are designing a mural. Students presented points of the design, use, and benefits of the garden.

Yessica. The Second Chances To Grow Garden
The bistro class is going to use the produce grown in the garden. Students


Saturday, May 17

, is a planting day, hoping Rotary can show up.
The mural will be composed of recycled materials.

Requesting donation of $3,000 for the mural.
Mural will be started in September and finish next spring.

Weekly drawing $65
Logan Propst
Raffle $1,534. Jeanett cordon
11 cards. With interact students helped with Salvation ARMY Bell ringing.



ROTARY YOUTH LEADERSHIP AWARDS (RYLA) from The ABCs of Rotary by PRIP Cliff Dochterman
by Pafford, W. Scott
ROTARY YOUTH LEADERSHIP AWARDS (RYLA)
Each summer thousands of young people are selected to attend Rotary-sponsored leadership camps or seminars in the United States, Australia, Canada, India, France, Argentina, Korea and numerous other countries. In an informal out-of-doors atmosphere, 50 to 75 outstanding young men and/or women spend a week in a challenging program of discussions, inspirational addresses, leadership training and social activities designed to enhance personal development, leadership skills and good citizenship.
The official name of this activity is the Rotary Youth Leadership Awards program (RYLA), although the event is occasionally referred to as Camp Royal, Camp Enterprise, Youth Leaders Seminars, Youth Conferences or other terms.
The RYLA program began in Australia in 1959, when young people throughout the state of Queensland were selected to meet with Princess Alexandra, the young cousin of Queen Elizabeth II. The Rotarians of Brisbane, who hosted the participants, were impressed with the quality of the young leaders. It was decided to bring youth leaders together each year for a week of social, cultural and educational activities. The RYLA program gradually grew throughout all the Rotary districts of Australia and New Zealand. In 1971, the R.I. Board of Directors adopted RYLA as an official program of Rotary International.
Jorge and several other GSRs are very passionate about RYLA. If you'd like to know more about what happens during the RYLA weekend or visit on one of the days to get a firsthand observation, just ask Jorge.
Online Marketing Tip of the Week
by Vance, Robert
5 Ways to Get Customers Raving About You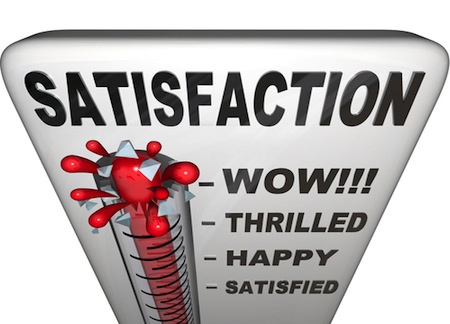 It's one thing to get customers, and quite another to build a base of raving fans. Doing the first one gets the business, and the second expands and grows your company faster than could imagine.
But how do you go about creating a culture ion your company where your customers are not only recommending you, but are your most ardent evangelists? We've found 5 great ways to turn your customer base into de facto employees!
5 Tips for getting customers to rave about your brand!
Deliver awesome value – Nothing says more about you than the quality of products and services you deliver, along with the way you deliver them. People are almost pre-conditioned now to expect mediocrity, so that when something truly wonderful comes along, they are apt to tell the known world all about it. These days that can be a very real boost, as a positive Tweet or Facebook post can send a horde of interested folks your way pronto!
Reach out to your best customers – Identify your best customers and look for ways to reach out to them. This can pay off in several ways. Talking to them helps you understand what it is customers like about your products and services, as well as what they might like to see. Also, think of ways you can cross promote them as well. Featuring their business in a blog post or video can be beneficial for both of you.
Ask for and reward reviews –Reviews are like gold these days, as more and more people seek recommendations online before seeking out your services. Be sure and ask your customers for help here, and don't be shy about rewarding them. Attempt to do this post-review, so there is no hint of you simply buying their review. Moreover, receiving an unexpected token of appreciation from you will only further endear you in their eyes.
Deal with problems like a Rockstar! – Monitor the buzz about your company and products in social media, and get ahead of the curve when it comes to dealing with dissatisfied customers. Be open, honest, and proactive when you discover an issue. Very often, you can resolve the problem quickly and build a reservoir of goodwill with that customer. If your product or service just isn't a good fit for them, offer an alternative that would be better. You'll have created a raving fan for life, and don't think they won't spread the word!
Give for no reason at all – Look for ways to constantly be giving, and this doesn't always mean a coupon or special deal. Useful content, free webinars and other perks can keep your brand in the front of their minds for some time to come
There are many opportunities to create raving fans for your brand. Most of the time it's the care you show that makes the difference.
Jewel City Fun and Fitness Ride
by O'Dwyer, Ian